Regular price
Sale price
$5.00 USD
Unit price
per
Sale
Sold out
'Hameldaeme'
Holidaying at home on the Moray coast at Findhorn.
The perfect card to spark some Scottish memories.
Printed on 100% recycled 300gsm card stock with a matt finish for a true vintage feel.
14 x 14 cm size folded.
Blank inside for your own message.
Comes with a brown envelope also made from 100% recycled material.
Wrapped in tissue instead of plastic and posted in a card backed envelope.
Designed in Scotland and made in the UK.
You can enjoy The Story Behind the Shot over on the blog.
Share
A note about gift tags

Sending your gifts direct to your friends and family?

I'm always happy to send your order directly to a loved one. Don't worry, there's no packing slip or prices included in your orders when I send them out. I wrap all orders in my signature patterned tissue paper and I'll even hand write a gift tag for you. There's a section on the checkout page to include a gift note, just fill this in and that's what I'll write on the tag. This is a service I offer complimentary when you're sending direct to a loved one. A gift tag is not supplied when you're sending items to yourself.
Planting Trees

I've been taking a cautious approach to how I manufacture, sell and post my products for many years now. It's an ongoing process and a core consideration as I create new products and grow my business.

 

SINGLE USE PLASTIC

I phased out single use plastic in 2018, opting to sell my cards and prints 'naked' with no plastic sleeve. Prints are stored flat and then either rolled or left flat and wrapped in tissue to protect them after purchase. Cards are wrapped in tissue and posted in a card backed envelope.

 

POSTAL PACKAGING

All of my postal mailers are made from 100% recycled material and are 100% recyclable too. I even use acid free paper tape to seal boxes where required, which can be left on the box for recycling. Mailers are all made here in the UK.

My products come wrapped in tissue paper which is fully recyclable. My plain coloured tissue is made from 100% recycled material and my printed tissue is made with FSC grade acid free fibre containing 30% recycled material and printed with soy based ink. You can either recycle or compost, whichever you prefer.

 

PRODUCTS

My greetings cards and prints are made from 100% recycled paper stock and are printed with an FSC logo so that their manufacture can be fully traced back to the source here in the UK. Both are 100% recyclable, although many of my customers and their recipients love to frame their cards.

My brown envelopes are also made from 100% recycled material in the UK and are fully recyclable.

I began phasing out my coasters and placemats summer 2021. They're manufactured in the UK using a sustainably sourced eucalyptus board base and are very hard wearing. The placemats are now fully discontinued and the coasters are almost gone too.

Tote bags are made from 100% cotton and sourced from a fair trade supplier in the UK. I then screen print them with water based inks.

The paper for my hand screen printed cotton rag prints is made from cotton t-shirt off-cuts by Khadi Papers.  

 

RECYCLING + REUSING

Every box and item of packaging material that comes into my studio from my manufacturers is either reused or recycled. All used paper and card is also recycled making the studio very very close to zero waste.

 

PLANTING TREES

In February 2021, I joined Ecologi to do more to fight climate change. Not only will I be planting trees every month, you'll be planting trees too with every purchase you make of my products. You can see Neon Gray's impact so far on my Ecologi profile and even donate more yourself.  

 
Orders + Delivery

CHRISTMAS ORDERING

It's that time again... I'll be finishing up for a Christmas break on Tuesday the 19th of December. All orders placed by 12noon that day will go out that afternoon. Anything ordered after this time won't go out until the new year when I'm back at my desk. Please, please, please get your orders in as early as you can manage and I'll do my best to get them out to you as quickly as I can. I'll be posting out daily by that point. Our posties work really hard at Christmas so please allow a little extra time for your order to arrive. You can view Royal Mail's last posting dates for 2023 here.  

Sending your gifts direct to your friends and family

I'm always happy to send your order directly to a loved one. Don't worry, there's no packing slip or prices included in your orders when I send them out. I wrap all orders in my signature patterned tissue paper and I'll even hand write a gift tag for you. There's a section on the checkout page to include a gift note, just fill this in and that's what I'll write on the tag. This is a service I offer complimentary when you're sending direct to a loved one. A gift tag is not supplied when you're sending items to yourself.

 

1. ORDERING 

You don't need an account in order to purchase from neongray.co.uk.  You can simply check out as a guest if you like.  I offer the option to create an account at checkout to make it a wee bit easier to keep track of your orders and so you can check out faster next time. If you choose to set up an account, I will NOT share your details or spam you. My own personal email inbox is permanently bursting so believe me, I get it! All the details are in my Privacy Policy on how I use your data to process orders.

Once you place an order (wahey!), you'll receive an email to confirm that I've received it. You'll also put a pretty big smile on my face too.

Once your order is ready, I'll safely pack it and send you a confirmation to let you know that it's on it's way.

Prints will be posted flat if at all possible, but for larger sizes, I'll roll them and place them in a hard tube for safer transit.

I generally pick and pack orders on Mondays, Wednesdays and Fridays, but my aim is to dispatch your order within 3 business days after your payment's gone through. Sometimes (if I'm lucky) things get a bit busy, but rest assured, I'll be in touch if I'm experiencing large order volumes.

Online business days are Monday – Friday.

   

2. PAYMENT

I use Shopify as my merchant for payments. Shopify accepts the following cards:

Visa
MasterCard
American Express
Debit cards (also known as bank cards) are accepted if they have a Visa or MasterCard logo.

Shopify automatically encrypts your confidential information in transit from your computer to theirs using the Secure Sockets Layer protocol (SSL). Here at Neon Gray, I don't see or handle your payment details.

Once your payment's successful, you'll receive an email confirming your order. You will not be sent a paper receipt.

   

3. DELIVERY

I use Royal Mail for postage and delivery on all orders. I keep my postage and packaging charges to an absolute minimum.

Please, please, please make sure your address is correct when you're placing your order. Addresses come through and are printed on your parcel exactly as you've typed them. Royal Mail are generally brilliant at resolving problems, but they can't help if your address is wrong, which means I can't either and I'd hate for you to miss out on an order.

 

UK Delivery

Standard delivery is via Royal Mail 1st Class. Your order should arrive within 1 to 3 working days after dispatch. I offer free Standard delivery on all orders over £50.

Express delivery is via Royal Mail Tracked 24. Your order should arrive the day after dispatch.

Please understand that I can't guarantee these delivery times. These times are aimed for by Royal Mail. 

 

International Delivery

For all international orders, I use Royal Mail International Standard or International Tracked and Signed. Within Europe your order should arrive within 3 - 5 working days after dispatch. For the rest of the world the delivery aim is 5 - 7 days after dispatch.

Please understand that I cannot guarantee these delivery times. These times are aimed for by Royal Mail. There are currently delays with shipping to Europe due to Brexit. Please allow extra time for your order to arrive. I know it's more expensive, but I strongly advise opting for tracked and signed on all international orders.

BREXIT

The UK has now left the EU and the Brexit process has become challenging to say the least. Please understand that I am doing my best to make sure all the necessary information is on parcels to ensure a smooth customs process. All orders that are being posted outside of the UK will require a customs declaration form. Unfortunately additional customs charges may be applied once the parcel has entered your country.

If your order is under €150, you will be required to pay import tax at your country's rate.
If your order is over €150, you will be required to pay import duties set by your customs authority.
I cannot guarantee what the exact charges will be after the parcel has left the UK.
If you do not pay the required customs charges by the deadline set, your order will be returned to me.

 

4. DAMAGED OR MISSING ORDERS

Our posties are generally great, but if your order does not arrive or is damaged upon arrival please get in touch and send me some pictures of the damage so that I can liaise with Royal Mail to resolve this for you. 

 

5. RETURNS POLICY

If you are not completely satisfied with your product when it arrives, please get in touch with me within 14 days (after receipt) to let me know that you are unhappy with your order and why. If I can't resolve this for you, the product must be returned to me within a further 14 days. It must be in saleable condition with the necessary postal insurance to cover loss or damage for a full refund including delivery. You are responsible for the cost of return. Your refund will be paid to you as soon as possible after I receive the returned item. If a discount code or offer was applied to the product you're returning at the time of purchase, your refund will be for the discounted price. If you ordered multiple items and are only returning one, then the cost of delivery will not be refunded. 

 

Colour

It is important to note that colour, brightness and contrast vary greatly from monitor to monitor and phone. Please understand that your item may not look exactly as you see it on your own monitor or phone at home. My photographs have been digitally processed with a precise calibration for optimum colour and saturation and as such may not match what you see on your devices. Rest assured that the product you will receive has the precise colouring that I have intended.

 

Paper and Card Stock

I predominantly use recycled paper and card stocks. These papers come with natural variations in colour, texture and with little flecks peppered throughout them. This is a natural part of how recycled papers are made and therefore no two prints or cards will appear exactly the same.
Club Neon

 

 

Oh, what's Club Neon?

Club Neon is my new loyalty rewards membership. It's my way of rewarding you for your continued support and for choosing to shop with me time and time again.

How does it work?

Every time you make a purchase at Neon Gray you'll accrue points. 5 points for every £1 you spend to be exact. Once you've reached enough points to unlock a reward, you'll get a little happy email to let you know.

500 points = £5 to spend
1000 points = £10 to spend
1500 points = £15 to spend
2000 points = £20 to spend

There are a few other ways to earn points and you'll even get an extra treat on your birthday! 

How do I join?

Head over to the Club Neon tab and create an account (if you don't have one already). This'll earn you your first 100 points, wahey!!
Click on the Earn Points section to start earning more.

Terms + Conditions

An account is required to keep track of your points and allow you some extra perks.
Membership is opt in only via the Club Neon tab. Once you've opted in, all you need to do is login to Neon Gray to earn and redeem your points. If you place your order using guest checkout, you will not accrue points.
Points expire after one year of inactivity. I'll send you a little reminder before then though.
Any points accrued from purchases that are later cancelled or returned will automatically be deducted from your account.
Points may not be redeemed for cash.
You must reach a minimum of 500 points to receive a reward. Rewards are issued in the form of a discount voucher.
You will not earn points for shipping charges. Nor will postage and packaging charged at checkout be eligible for voucher discounts.
By opting in to Club Neon you will receive emails in relation to 

the Club Neon loyalty and rewards program. For eg.

your points earned on an order or when you've unlocked a reward, moved up a VIP tier level or any other perks you receive as a member of the program. These emails are NOT part of my newsletter subscription which is a separate opt in. Click here for more on my Privacy Policy.
Neon Gray may withdraw, change or amend the Club Neon loyalty and rewards program at any time.
View full details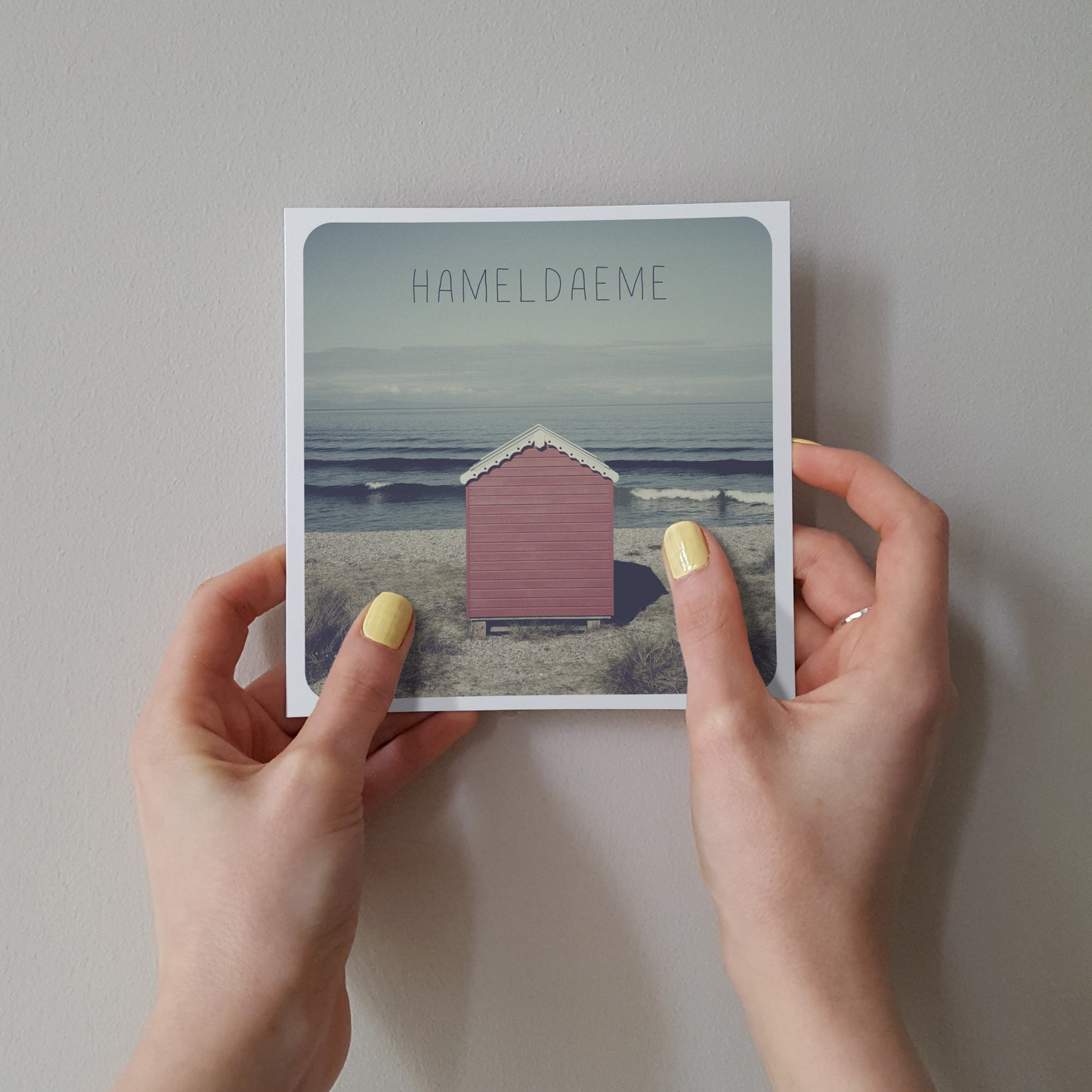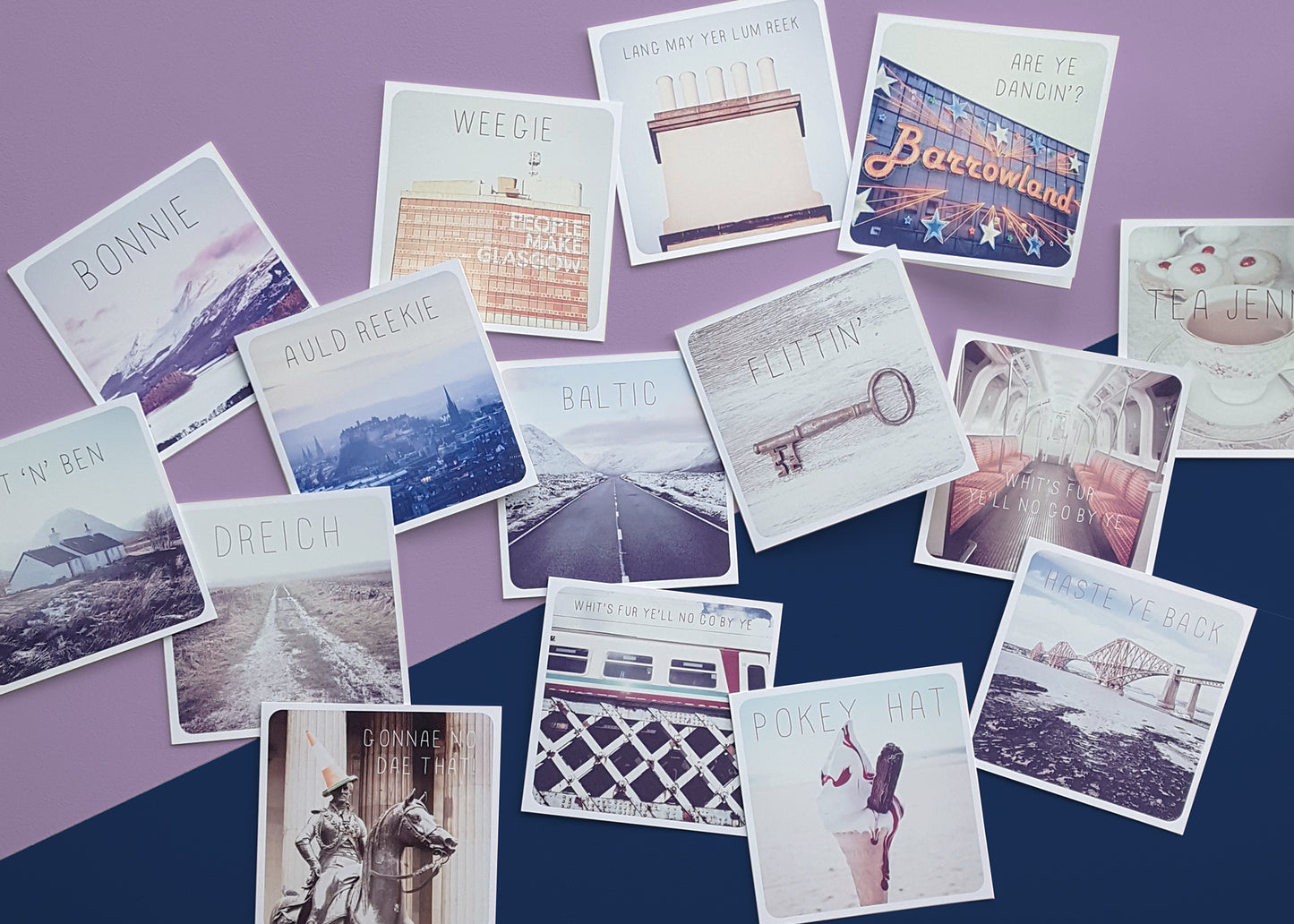 Scottish Banter Collection
Patter, n. A line in conversation; chat intended to amuse or impress; an insiders language.
Call it what you will, banter, patter, craic or just good chat. Everybody loves a bit of banter right? A well known phrase or words your granny used to say. The Scottish Banter Collection has been created with a wee vintage flavour and a healthy dose of Scottish nostalgia.